July 4, 1999 - Prescott, Mingus Mt., Jerome, Arizona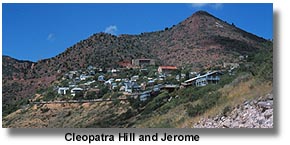 This trip was a replay of our trip earlier this year - which got snowed out! The plan was to drive from Phoenix through Prescott and Jerome stopping in Sedona. From our Sedona base, we would hike Oak Creek canyon and The Grand Canyon. Lastly, we would drive to Payson for an overnight with friends stopping at Tonto Natural Bridge on the way. A drive to the Mollogon Rim would end the trip before returning to Phoenix.



Prescott is in central Arizona amid the largest stand of Ponderosa Pine in the world. The community is 96 miles northwest of Phoenix and 90 miles southwest of Flagstaff at an elevation of 5,400 feet. We happened to arrive during their annual Fourth of July Arts & Crafts Festival in the Yavapai County Courthouse Plaza. We had lunch at The Palace Restaurant & Saloon, reincarnated from a rowdy saloon to a family restaurant and site of many scenes from the movie, Jr. Bonner.
Click on thumbnails for larger view:


Busy day on Main Street.

Bikes outside Matt's Saloon.



Nice bike in foreground.


More bikes.



Our lunch spot. The Palace.



The beauty cruising the strip.


The Arts & Crafts crowd.



Debra got car sick on the switchbacks into Prescott. She looks OK now.
After lunch, we head up 89A toward Jerome with a stop at an overlook on Mingus Mountain. Jerome, an old mining town clings to its past -- and the side of Cleopatra Hill. Today, Jerome, "the mile-high town with the 50-mile views", survives as a mountain home for artisans and tourists.


Overlook on Mingus Mt. leading into Jerome.


Mingus overlook.



Calvin enjoying the "dry heat" on Mingus Mt.



Same overlook.



We obviously loved this spot.



Great shot! Beautiful background too.






Finally, we reach Jerome.



The Mogollon Rim and Sedona from Jerome.



The Spirit Room was jumping.



Check out the vintage Harley-Davidson.



The House of Joy. A former bordello, the restaurant serves its gourmet dinners only on Saturday and Sunday nights. Reservations a must.



View My Guestbook
Sign My Guestbook


email me: backpackingtexan at yahoo dot kom


Return to Homepage.