July 4, 1999 - Sedona, Arizona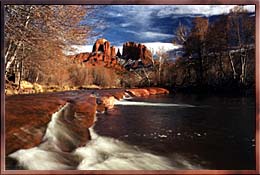 Sedona is one of Arizona's premier tourism, recreation, resort and art centers. Its location at the mouth of scenic Oak Creek Canyon and at the center of the state's famous Red Rock Country affords breathtaking panoramas, a mild climate and plenty of sunshine. The area is the second most visited site in Arizona after the Grand Canyon. Established in 1902, the community was named for Sedona Schnebly, an early settler. Spreading across the central Arizona counties of Coconino and Yavapai, Sedona sits at an elevation of 4,500 feet (about 3,200 feet higher than Phoenix). Via Interstate 17, the town is 120 miles north of Phoenix and 30 miles south of Flagstaff. If you don't "ooh" and "ah" when approaching Sedona, you are not alive.



This was our second trip to Sedona this year. A freak snowstorm at Easter wiped out our earlier outdoor plans. This trip more than made up for what we missed the first time.
Click on thumbnails for larger view:


View from our room at the DoubleTree Sedona Resort.


Red Rocks.



Red rocks with "Bell Rock" on right.


Chapel of The Holy Cross.


Debra resting in front of Chapel.



View of Sedona from Mesa road. "CoffePot Rock" in background.



Closer view of "CoffePot Rock".



Debra at the top of the Airport Mesa "vortex".



Can you feel the "force"?



Panorama of Sedona.



View My Guestbook
Sign My Guestbook


email me: backpackingtexan at yahoo dot kom


Return to Homepage.