Arkansas, Labor Day Weekend, 2001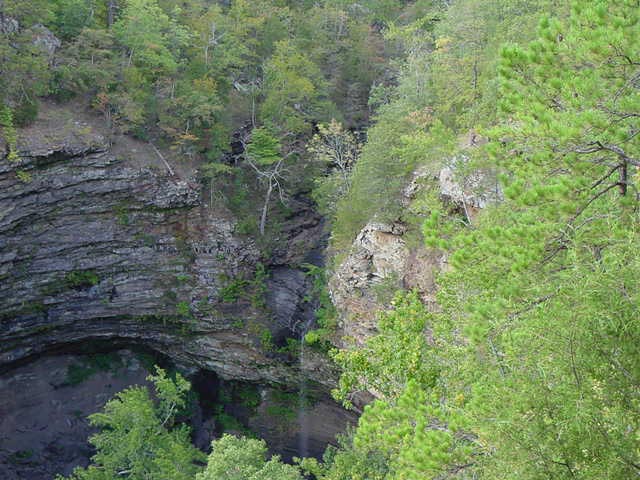 Loaded up the 'Cruiser and headed for Mount Ida, Arkansas to visit good friends Ron and Deb. Having recently forsaken the big city for quieter environs, we were excited to see how they were adapting to the 'slow life'. The visit also was an opportunity for us to add to our total of state's high points.
Click on thumbnails for larger view:

Head west on Hwy. 270 from Mount Ida, the Quartz Capital of the World. We took a scenic drive to the top of Hickory Nut Mountain for a panoramic view of Lake Ouachita.


Lake Ouachita is the largest man-made lake in the state and the second cleanest lake in the country, according to the EPA. One of the state's top bass fishing lakes, it's a popular spot for water sports and camping, surrounded by the Ouachita National Forest. Recreation areas include Lake Ouachita State Park and numerous Corps of Engineers and commercial facilities offering lodging, restaurants, and marinas. For information, contact: Lake Ouachita Field Office (501) 767-2101.


Ron, nut (Debra), and Debbie at a Hickory Nut Mountain overlook.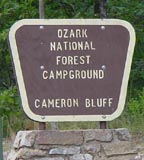 With the opening of Mount Magazine State Park, campers will now be able to take their camping experiences to new heights in Arkansas. Mount Magazine, located in Logan County within the Ozark National Forest, is the highest point in Arkansas rising 2,753 feet above the Arkansas River Valley, and is the home of Arkansasís newest state park. Nine of the 18 campsites are reservable by calling (501) 963-8502. The other nine are available on a first-come basis. The park offers sightseeing opportunities with scenic overlooks, hiking trails, a new picnic area, rest rooms and group pavilion. Future phases of park development will include the construction of a lodge with restaurant, conference facility and meeting rooms, and a swimming pool, plus 18 fully-equipped cabins, a horse camp area with bathhouse and additional hiking trails.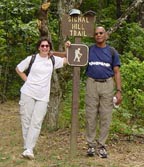 Calvin and Debra at the trailhead.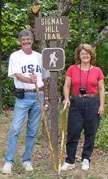 Ron and Debbie about to begin their first trek to a state's high point.


Ten minutes later, we're there.


MOUNT MAGAZINE SCENIC BYWAY - Arkansas Highway 309, a National Scenic Byway, winds to the top of Mount Magazine. Overlooks show the valleys and lakes of Logan and Yell Counties.

SCENIC HWY. 23 - A National Scenic Byway connecting from Hwy. 71 south of Booneville, northward from Ozark to its junction with Arkansas 16. THe Byway is known as "Pig Trail" to Razorback football enthusiasts.


One of Arkansas' finest state park facilities, Petit Jean State Park lies in a unique area between the Ozark and Ouachita Mountain ranges in west-central Arkansas. Situated upon beautiful Petit Jean Mountain, the park encompasses 3,471 acres of rare natural beauty. In this lovely mountain setting are an abundance of unmarred woods, ravines, streams, springs, spectacular views and interesting geological formations preserved almost as French explorers found them 300 years ago. The mountain received its name from the legend of Petit Jean, the story of a French girl who disguised herself as a boy and secretly accompanied her sweetheart, a sailor, to America.


A short drive and short walk takes you to Bear Cave, which consists of huge, sculpted rock formations carved by wind and weather.

The most rewarding hiking trail is the 2-mile, two-hour descent to the base of Cedar Falls, which tumbles some 90 feet into a cliff-lined pool. This steep trail isn't suitable for "older" kids without proper shoes, water, etc., so we opted to view the falls from one of the vantage points just off the main road.


Leaving Arkansas, we passed through "a town called Hope." For his first four years, ex-president Bill Clinton lived with his maternal grandparents, Eldridge and Edith Grisham Cassidy, at 117 South Hervey in Hope. It was in this house that Bill spent his formative years, learning to walk, talk, laugh, play, read, and pray - uh, and "other things" :-).




View My Guestbook
Sign My Guestbook



email me: backpackingtexan at yahoo dot kom


Return to Homepage.