April 13-15, 2001 - Easter in Santa Fe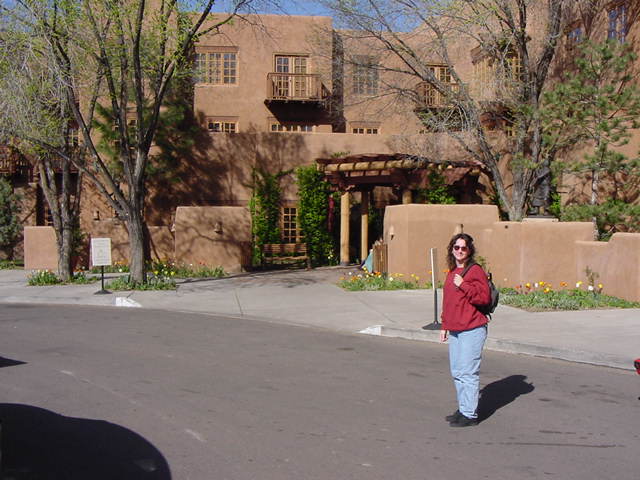 One of the oldest cities in the United States, Santa Fe has long been a center for the creative and performing arts and most of the city's major sights are related to local history and the arts. We are here just as a weekend getaway with no agenda other than to relax and give in to the "tourist thing" Here is Deb in front of the Hotel Sante Fe - our base. The hotel is about a 10-minute walk south of the Plaza and "the only Native American-owned hotel in Santa Fe."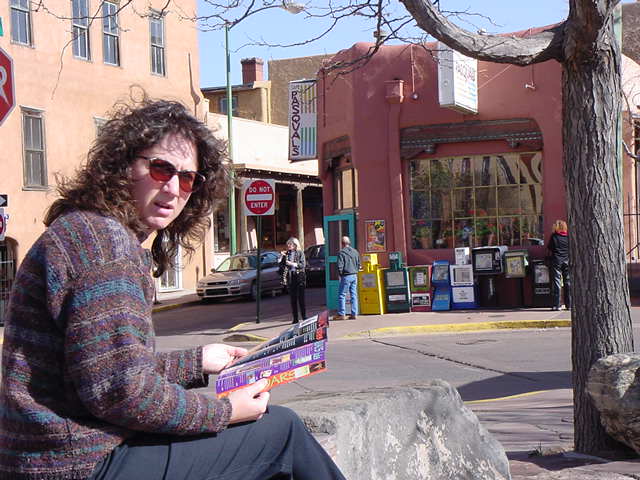 We started the first morning with a walk from the hotel to Cafe Pasqual's - the place for breakfast. I had the HUEVOS MOTULENOS (two eggs over easy on blue-corn tortillas and black beans topped with sauteed bananas, feta cheese, salsa, and green chile). YUM! This a very popular place as you can see Deb waiting for a table - across the street.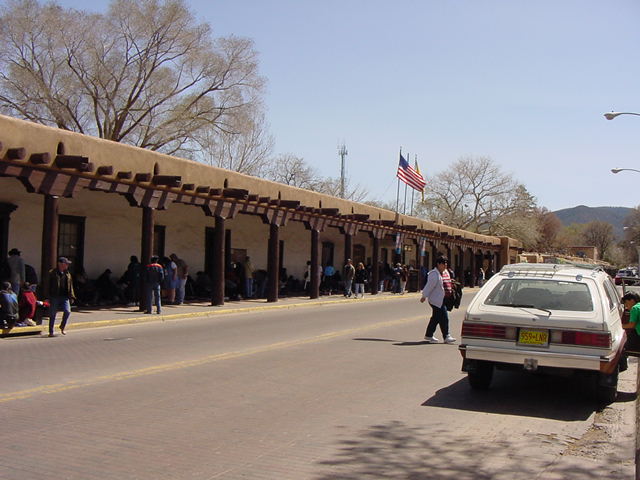 Palace of Governors. Built in 1610 as the original capitol of New Mexico, the Palace has been in continuous public use longer than any other structure in the United States. Out front, Native Americans sell jewelry, pottery, and weavings.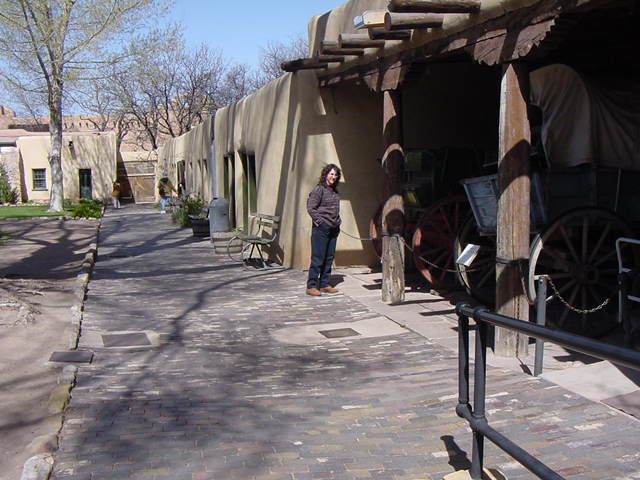 Inside you will see ceramics, gold, and stone work of South and Central America from 1500 B.C. to A.D. 1500. Ther's also an impressive 18th-century Segesser Hide painting collection, which documents events from America's Spanish Colonial past. $10 gets you entry to 5 museums - including the Palace, Museum of Fine Arts, the Museum of International Folk Art, Museum of Indian Arts and Culture.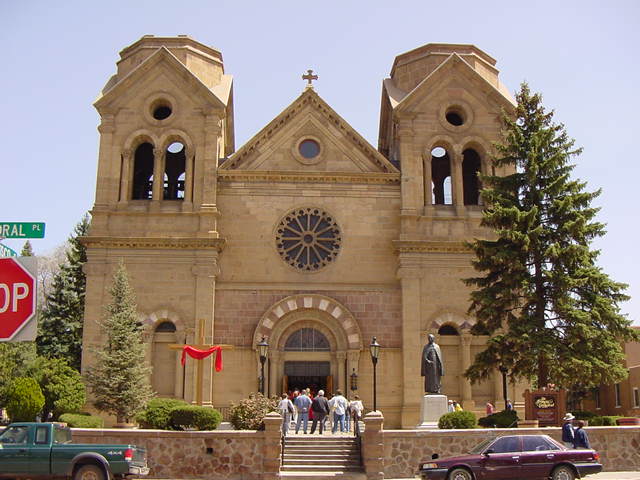 Santa Fe's grandest religious structure is an architectural anomaly in Santa Fe because its design is French. It was built between 1869 and 1886 in the style of the great cathedrals of Europe and named after Santa Fe's patron saint. Because Mass was being held when we visited, we did not see inside.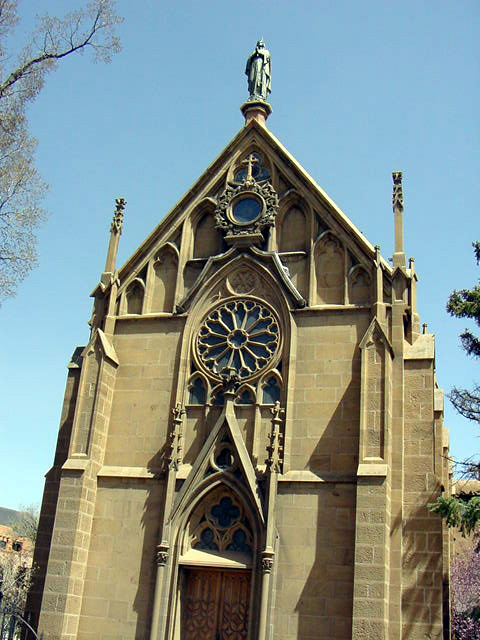 Patterned after the famous Sainte-Chapelle church in Paris, Loretto Chapel was constructed in 1873. It is notable for its spiral staircase: It makes two complete 360 degree turns with no central or other visible support! The structure is steeped in legend. The building was nearly finished in 1878 when workers realized the stairs to the choir loft would not fit. Hoping for a solution more attractive than a ladder, the sisters made a novena to St. Joseph, and were rewarded when a mysterious carpenter appeared astride a donkey and offered to build a staircase. Armed with only a saw, a hammer, and a T-square, the master constructed this work of genius by soaking slats of wood in tubs of waer to curve them and holding them together with wooden pegs. Then he disappeared without bothering to collect his fee.????
Dinner was at the Coyote Cafe a trendy nouveau Southwest restaurant a block from the Plaza. The atmosphere is urban Southwest with calfskin-covered chairs and a zoo of carved animals watching from a balcony. We sat at a bar overlooking the exhibition kitchen where we conversed with the chefs as they prepared the excellent entrees.
The next morning we had breakfast at the hotel before taking "the High Road to Taos" - a more scenic route through the mountains. We planned to stop in Chimayo to visit El Santuario de Nuestro Senor de Esquipulas (the Shrine of Our Lord of Esquipulas). However, because it was Easter weekend, there were thousands of people participating in the annual Good Friday (and Saturday) pilgrimage to the shrine. It all seemed very interesting but the crowds caused us to forgo this stop and continue on through Cordova, Truchas, and Espanola, to Taos.
After a walking tour of Taos (think 'upscale outlet mall'), and lunch at the Trading Post Cafe (Northern Italian/Internatonal)we drove out US 64 to take in the view from the Rio Grande Gorge Bridge.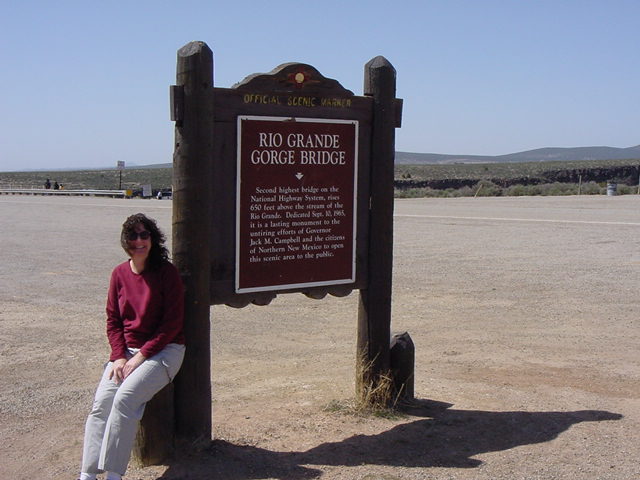 This is an impressive bridge. At 650 feet above the canyon floor, it is one of America's highest bridges.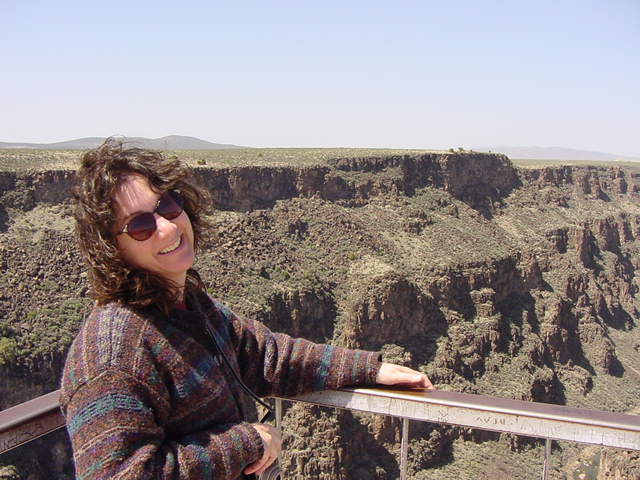 It was very windy this day but the views were magnificent!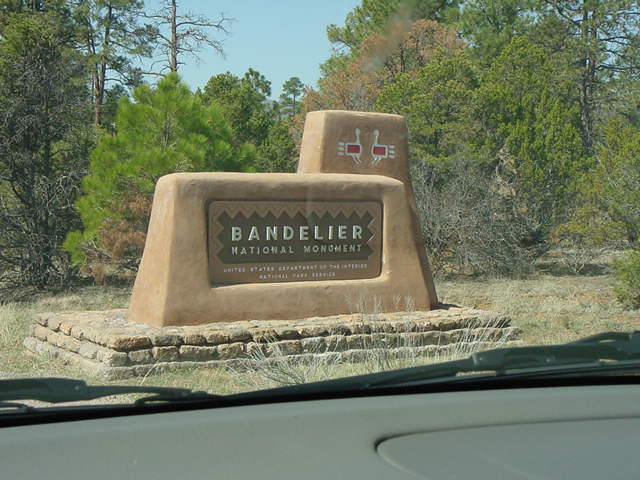 15 miles south of Los Alamos along NM4, this National Park Service area contains both extensive ruins of the ancient cliff-dwelling Anasazi Pueblo culture and 46 square miles of canyon-and-mesa wilderness.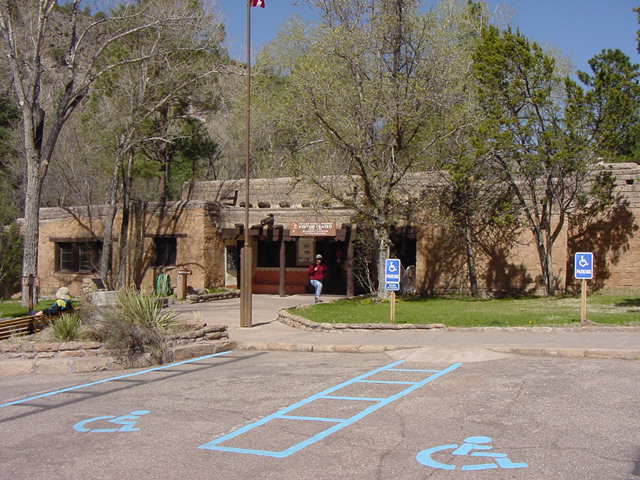 We stopped in the visitors center to learn about the culture that flourished here between A.D. 1100 and 1550.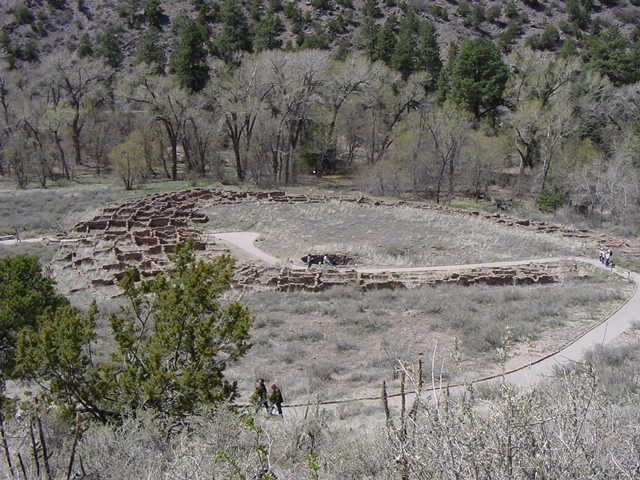 These are the principal ruins including an underground kiva.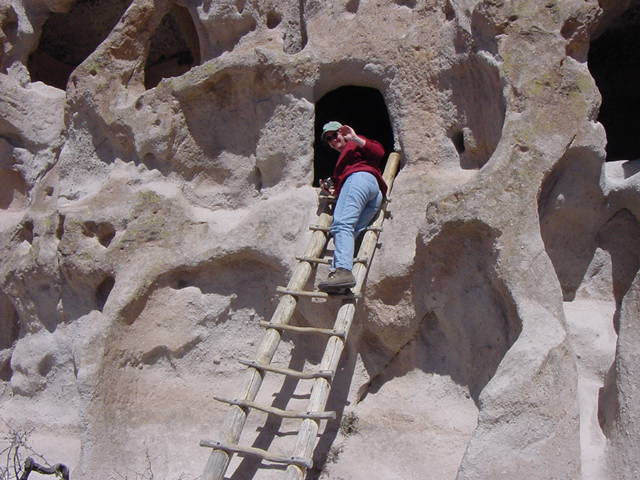 It was thrilling to climb the ponderosa pine ladders to visit the alcove that were once home to prehistoric people.



View My Guestbook
Sign My Guestbook


email me: backpackingtexan at yahoo dot kom


Return to Homepage.